Tag: kitchens
Posted on June 27th, by Michael Menn in
Kitchens
.
Comments Off on Mid-Year Kitchen Trends
Mid-Year Kitchen Trends
Can you believe we're already well into June? Seems this year has just flown by. If you're wondering what is trending in kitchens this year, I have a few things that are popping up on my radar that are evolving trends to watch!
Cabinets:
Style: Definitely more straight lines (no fussy details) and simpler door styles (Shaker seems to be King!)
Colors: White still reigns as one of the most popular kitchen colors, but I am seeing a trend in my own clients toward warmer woods (mid- darker colors). Greys are still getting a lot of traction but a surprising color that is emerging is Navy! It can be done in a dark hue that works with both other painted finishes like whites and with wood tones. A big surprise, but interesting!
Cabinet Accessories: Everyone wants to utilize their storage better and here are some creative ways to do that!
Cabinet inserts that allow you to pull them down and access what is in those wall cabinets (great for living in place!)
Dedicated cabinet inserts to organize all those plastic food storage containers
Corner cabinet pull-outs that allow you to utilize that dead space for great storage
Hardware:
Believe it or not, brass is coming back! It's … Read More »
Posted on November 6th, by Michael Menn in
Kitchens
.
Comments Off on Entertaining In The Kitchen
THE ENTERTAINING KITCHEN
Due to the popularity of today's open floor plans with kitchens in full view, designing kitchens is all about zones related to the flow of activity. Kitchen design is being further refined by an emerging knowledge of how layout and product choices can actually help reduce stress, particularly while entertaining.Many of the best times of our lives revolve around being with family and friends. Whether it's hosting a formal get-together, holiday dinners or your children's birthday parties, the kitchen is the hub of activity. A little extra attention spent planning flow; layout and product selections will reward you with a kitchen that is more functional and efficient.
Storage is the initial zone, because you want items to be stored in places convenient to where they will be used. For example, you're going to want storage for your good dishes, glassware and silverware near the serving or dining area, such as a butler pantry.
It's also essential to reduce clutter, ease accessibility and arrange items in an organized way. Include some roll-out drawers or trays. Drawer inserts keep small items, spices, silverware and utensils organized. But what about small, frequently used appliances? Countertop appliance garages for blenders, toasters, and coffee makers … Read More »
Posted on June 28th, by Michael Menn in
Kitchen Projects
.
Comments Off on Kitchens7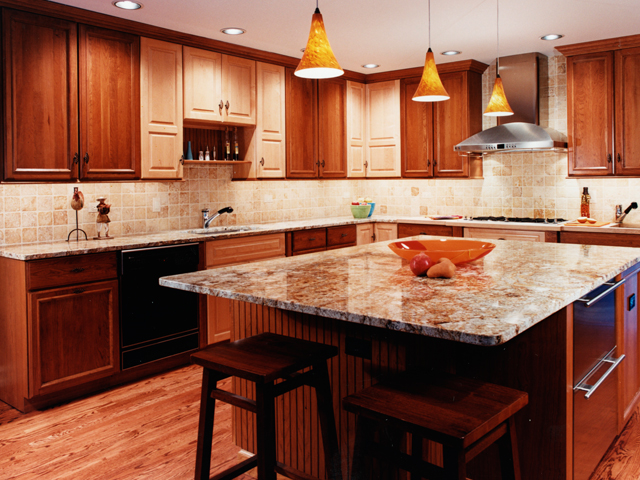 Posted on June 28th, by Michael Menn in
Kitchen Projects
.
Comments Off on Kitchens6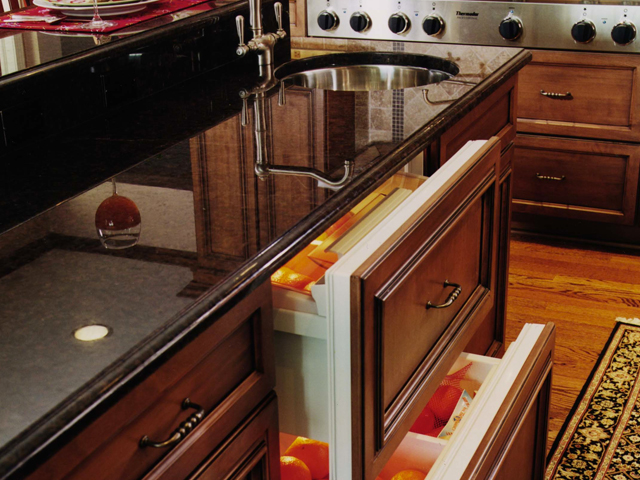 Posted on June 28th, by Michael Menn in
Kitchen Projects
.
Comments Off on Kitchens5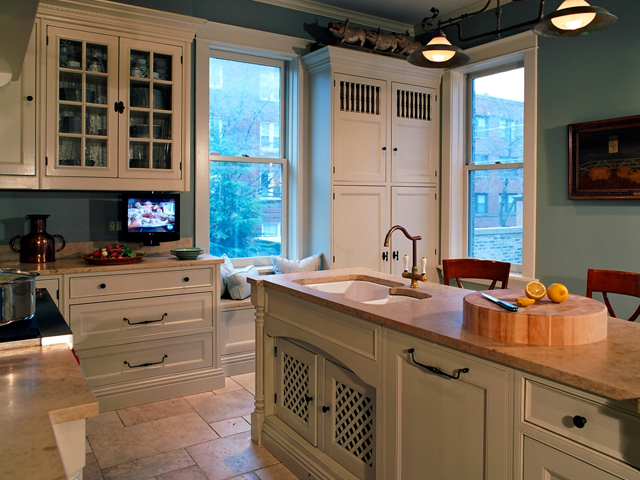 Posted on June 28th, by Michael Menn in
Kitchen Projects
.
Comments Off on Kitchens3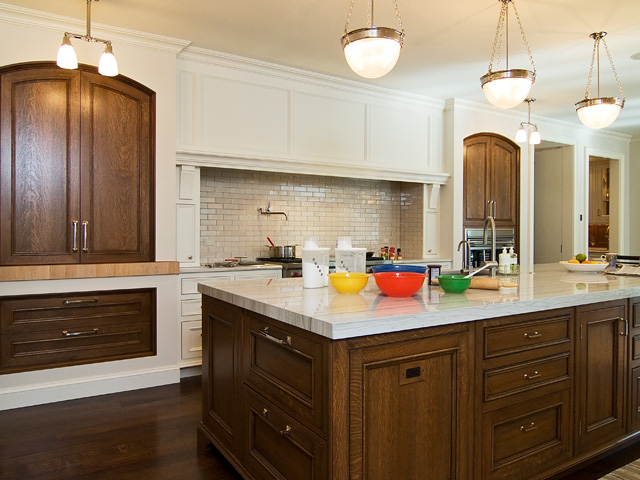 Posted on June 28th, by Michael Menn in
Kitchen Projects
.
Comments Off on Kitchens2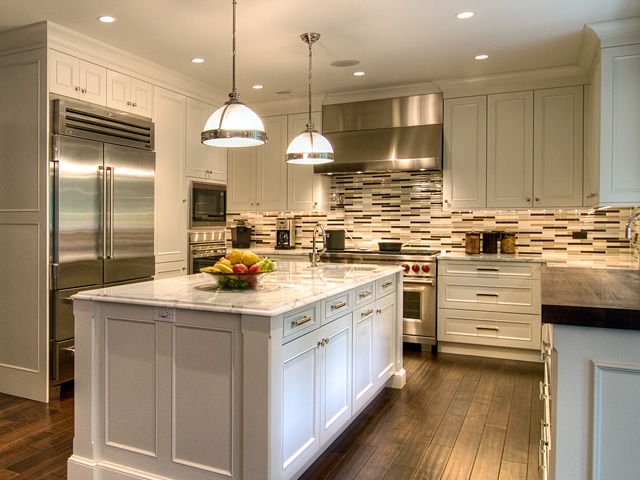 Posted on June 28th, by Michael Menn in
Kitchen Projects
.
Comments Off on Kitchens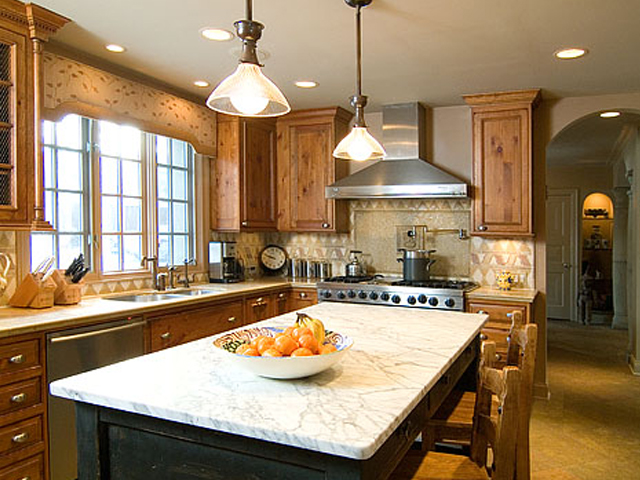 Posted on June 19th, by Michael Menn in
Kitchens
,
Renovation
.
Comments Off on Two Of Everything In A One-Of-A-Kind Design
Once in a great while, the stars align and we take on a special project that lets us put every inch of our creativity and capabilities to full use. We just completed a year-long project that energized our entire team to break new ground — the complete gut and renovation of a 13-year old, 11,000 square foot house that our client just purchased.
While we enjoyed all aspects of the project, we are particularly pleased at the kitchen design — which had very unique requirements. First off, our clients are strictly Kosher, and everything in the kitchen had to conform to traditional Jewish dietary law — the separation of meat and dairy. But they also wanted the kitchen to match their modern, casual lifestyle, with a design equally at home for frequent informal and formal entertaining.
So we knew we would have to create plenty of space to allow for two dishwashers, two refrigerators, two ovens, two double sinks and separate wall oven — plus separate drawers, cabinets and prep areas for meat and dairy dishes, silverware, utensils and linens. As you can see from the "Before" floor plan, a wall separated the original kitchen from the sunroom. Our clients' first thought … Read More »
Posted on September 10th, by Michael Menn in
Uncategorized
.
Comments Off on Traditional and Contemporary: Can They Coexist?
Dictionary.com defines a tradition as "a customary or characteristic method or manner."
It defines contemporary as "of the present time, modern."
Seems like the two are diametrically opposite of each other and can't coexist.  Right?
Actually wrong.
There are lots of examples in everyday life of traditional and contemporary (or modern) coexisting harmoniously.  I'm a baseball fan, so I will use that as an example.  Baseball fans are traditionalists, yet they also crave modern amenities when going to a game.  The ballparks built over the last 20 years or so reflect these seemingly disparate desires.  The parks themselves were constructed with a "throwback" architectural style reminiscent of the look of parks built 100 years ago or more.  Baseball traditionalists love the intimacy these fields project.
Yet these parks are also quite modern.  They include features ranging from expansive concourses with different types of foods and souvenir shops, to high tech scoreboards with video screens for replays and races with animated characters, as well as up to the minute scores from around the league.  Baltimore's Camden Yards is really the first of this style park, but you can now find these venues from New York to San Francisco…from Texas to Minnesota.
Of course, Chicago has no such … Read More »
---