Master Suites in the North Shore
---
---
Master Suites
The term "master suite" implies that the space is much more than merely a master bedroom and bath. While the overall size of new homes continues to drop, the master area seems to demand more attention than ever. However, this doesn't necessarily mean the master bath and closets are just larger and grander. In years past, we've seen some rather spectacular baths; you probably recall the elaborate fireplaces, bathtubs large enough for the kids to swim in, and ornate chandeliers that might have been more appropriate in the grand foyer.
While some of our current master areas might still be rather large, the focus is now on the functionality of the space. More thought has been put into the efficient use of storage and features that will be used on a daily basis. For instance, laundry areas are often found adjacent to the master bath. A home office might be an integral component of the suite. For those clients who are empty nesters, the master suite has evolved into a retreat that almost becomes a self-contained living area. While the following designs for master suites vary in size and amenities, each pays careful attention to efficient and functional details.
The design of a master suite needs to pay close attention to detail in order to fit the client's lifestyle and become a retreat. The first master suite features a large, walk-through closet with built-in cabinets, a fireplace, and close proximity to the laundry room. Large floor-to-ceiling windows in the master bedroom allow natural light to flood the space. The master bath is finished off in a natural, earthly design, with large stone tiles on the floors and stacked stones on accent walls. It also comes equipped with a walk-in rain shower with moveable jets on the walls and a jetted tub. A private access to the rear of the house finishes off this master suite. off this master suite.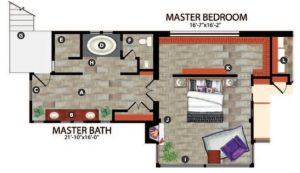 Oversized brick pattern stone tiles that are radiant heated
Vessel sinks with faucets on walls
Stacked stone on accent walls
Jetted soaker tub
Pebble-stone shower with rain feature and jets on walls
Closed-off toilet room with urinal and stacked wood on walls
Private staircase to rear of house
Skylights throughout master bath
Floor-to-ceiling windows for natural light
Fireplace in master bedroom
Walk-through closet
Close proximity to laundry
The next suite was designed for an empty nester; this master suite encompasses not only the bedroom and bathroom, but also a home office and laundry area. The "family foyer" also serves as a drop-off point for their golf clubs, tennis racquets, and other outdoor equipment. Expansive windows provide a view of the pool and rear yard, while double French doors open to a 10-foot-deep porch across the back of the house.
Sitting area with built-in media center. The flat-screen TV swivels to allow viewing from bed.
Exercise area with wall recess for flat-screen TV. Windows provide natural light and views toward the pool.
Built-in linen and clothes storage eliminates need for dresser in bedroom
Large, door-less shower with glass-block walls for light and privacy
Both walk-in closets feature built-in drawers for clothes storage.
Laundry room conveniently adjacent to "family entry" and master suite
"Family entry" has abundant storage with personal lockers, a bench with shoe storage below, and a "drop zone" for mail, keys, and cell phones
Home office provides workspace for two people, file drawers, bookcases, and storage cabinets
The master wing of this house is laid out to provide "his and her" suites with some shared spaces in between. For maximum privacy, each person has a private study, dressing room, and toilet facilities. Rather than having the bed in the middle of a large room, it is tucked into an alcove that is open to separate study spaces on both sides of the bed. This alcove can be closed off with sliding panels to lend privacy to the early crasher or late sleeper. The shower/tub room is a large "wet room" shared by both, but it can be closed off if desired. The plumbing noise is separated from the bed alcove by a "flex" workroom, which serves as a laundry and storage area.
Master bed alcove with sliding panels for privacy but open to the studies for cross ventilation
His study — could be used as a library, office space, or for exercise equipment
Her study — could be used as a library, office space, or for exercise equipment
Workroom for laundry, projects, and storage
His dressing room with an island of drawers and window seat
Her dressing room with an island of drawers and window seat
Shower/tub room
His toilet room with urinal
Her toilet room with bidet
Sliding panels
"Don't leave home without it" shelf, where owners can lay out the things that have to go with them for the day
Coffee bar
Vanity rooms
No matter what your design wishes are, the master suite can accommodate all types of living scenarios. It is our responsibility as architects and remodelers to take the 1000 of ideas in your head and make them come to reality.
I hope you enjoyed this month's blog.
See you next month.
Best,

Michael A. Menn Principal, Architect
AIA, CGR, CAPS, CGP, NCARB, NKBA
Michael Menn Ltd.
---
---