Embracing Excellence
---
---
Over the last several years, I have seen – and I'm sure you have to – a growing trend by consumers to seek design solutions that are not traditional.
Instead, clients are demanding designs that are customized to create environments that meet their unique and what some might even call atypical lifestyles.
As a design professional, I crave these opportunities, because they let me flex my creative muscles and provide the personalized design that is the essence of what I do.  These opportunities also allow me to solve challenges I would not encounter in a more "traditional" project.
Recently I had such an opportunity to flex my creative muscles and create a unique living environment.  Before I tell you what I did, let's review what I mean by a more "traditional project.
Spaces in the 80's and 90's were designed around the themes of "bigger is better" and "formal is better."  It was not uncommon to see massive kitchens that would not have been out of place in an upscale restaurant, and bathrooms that featured swimming pool sized tubs and showers that resembled car washes.  Formal areas such as the living room and dining room were designed with the apparent goal of replicating palaces or museums.  Bedrooms were small, and a place to sleep.  If I could not design to those specifications, I would be in trouble.
Today, our lifestyles are different.  We spend most time in the kitchen or the family room, so we want those rooms to be functional, attractive and comfortable.  But they do not have to be huge and certainly not formal.  Bedrooms still are usually the place to sleep, except for the Master Suite.
So imagine my excitement when a client came to us with a request to complete a whole house transformation with the cornerstone being the creation of a Master Suite that would provide the perfect refuge for relaxation and rejuvenation of the body and soul.
Now I understand that this is not the "typical" project.  So I should tell you that our clients both lead chaotic lives with great mental and physical demands.  They wanted and needed a sanctuary, and they wanted that to be the Master Suite.  We accomplished this through structural change, the inclusion of critical functional elements, and the creation of a warm, inviting environment.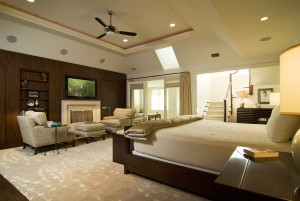 The structural changes allowed us to create a "bigger is better" living area.  I created a 1,500 SF Master Suite from what had been a much smaller area.  I took attic space and converted it to the husband's closet.  A small Kitchenette (yes, a Kitchenette in the Master Suite) was hidden behind one of the walnut walls, and an exterior Balcony was converted into the Sitting Room.  Additionally, the Master Bath Foyer was defined and refined by adding a towel storage cabinet and adding a pair of pocket doors adjacent to the Bedroom.
There were also some functional "creature comforts" that were integrated to enhance the experience such as a towel warming drawer in the Master Bath, heated floors in the Sitting Room and Master Bath, a multi-component shower system with different shower settings for the husband and wife, and a structured wiring system that controls everything from the HVAC to the lighting to a whole house I-Pod dock system.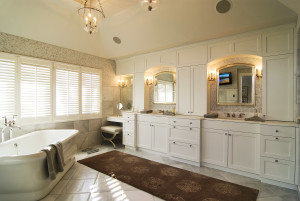 To create the warm, inviting environment the homeowners wanted, the suite evokes the essence of a European spa.  We used strong, clean lines, soft edges and various materials throughout the suite to evoke that essence.  Within the Master Bedroom/Bathroom we incorporated walnut cabinetry, Jerusalem stone, pillowed marble and mosaic tiles.  The resulting aesthetics were a result of the marriage of a variety of textures and materials.  Throughout the suite we employed a neutral palette to enhance the warmth of the space.
Embrace the changing desires of your clients and create something excellent.  Great design is about creating a true, living reflection of the people who live in the space.
Professionally, I am very proud of what was created.  But even more satisfying was the comment from the husband when the job was done.   "Most people look forward to going on vacation to get away.  Here we have a sense of peace and relaxation every day."
Sincerely,
Michael
---
---