Design and Construction Week 2016 Wrap Up
---
Posted on February 10th, by Michael Menn in
Innovation
,
Kitchen Projects
.
Comments Off on Design and Construction Week 2016 Wrap Up
---
IBS International Builders Show and KBIS Kitchen and Bath Industry Show combine and create Design and Construction Week!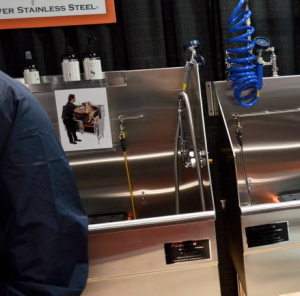 For the last 20 plus years I have attended the International Builders Show. It gives me the opportunity to meet new vendors and catch up with old ones. Three years ago, the International Builders Show (IBS) co-branded with the Kitchen and Bath Industry Show (KBIS) to create Design and Construction Week. This year it was in Las Vegas the week of January 18th. The previous pictures were two of many photos I took of vendors that I thought had interesting products.
There's nothing like walking around a home show to make you start questioning your own décor. At the 2016 Design and Construction week, there was no shortage of luxury items that might make your "Dream Home" Pinterest board green with envy. There were a lot of things designed to make life easier, while others just seemed to be beautifully designed and aimed at adding a little extra comfort to your life.
Let's start with the bathroom. Instead of germing up your hands like a sucker, touchless faucets help your newly cleaned hands stay that way. Cinaton's iSense has five sensors that let you turn the water on and off, adjust temperature and turn it from flow blast to a low trickle. Virginia Tech's FutureHAUS had a pretty cool mirror that would tell you the time and weather, but we were more enamored with their idea to put a TV near the tub for Netflix and soak purposes. And to make sure the water's just right, Delta's Temp2O Tub and Shower displays the temperature of the water and changes from blue to red as it warms up. Kohler's Invigoration Series steam shower is supposed to give your bathroom the sauna treatment.
In the kitchen, you'll want Viking's TurboChef to make you meals in minutes. It uses forced air wooshing around the oven cavity to make asparagus appetizers in just a couple minutes and bake bananas foster in about 180 seconds. On the cooling side, Liebherr says the special compartments in its BioFresh fridges keep food fresher longer, because you can precisely control the temperature and humidity, sort of like souped up crisper drawers.
Random amenities in your luxe home must include a staircase with built-in wine fridges from Vinotemp and a specialized bathtub made for your furry friends (see attached photo). Keep your valuables (or you panic room or secret passage) in a room hidden behind your Murphy Door, designed to look like an ordinary bookcase. Head outdoors, and you'll want a Kalamazoo Gaucho Grill, complete with a motorized rotisserie spit.
Touring your home has been hard work. Time to kick back with a nice vintage from your wine cellar. Don't worry, the butler will see to it.
If you are thinking about remodeling your bathroom, please think of us to help in the design and construction.
Best,

Michael
---
---